Uniworld Boutique River Cruise Collection
Uniworld Boutique River Cruises has a fleet of 14 boutique, hotel-style ships with over 500 departures to choose from on more than 40 itineraries along 12 rivers. Covering over 20 countries throughout Central and Eastern Europe, Russia, Asia and India. Travel on-board intimate, luxurious ships with an average capacity of just 130 guests. All of their ships are either new or refitted since 2009. Cruises are inclusive of on board and on shore gratuities, shore excursions with local guides and headset systems, unlimited beverages and al gourmet meals on-board supervised by a Global Master Chef, scheduled airport transfers, experienced English-speaking staff, on-board Signature Lectures, Internet and Wi-Fi, staterooms equipped with fine amenities.
Awards include "World's Best Cruise Line 2014" by Conde Nast Traveller. Travel+Leisure (Top River Ships, 2013), Condé Nast Traveler Gold List (every year for 7 years), Condé Nast Traveler Cruise Poll (5 of the top 40 river cruise ships), and Cruise Awards 2013 winner.
Solo travelers can cruise at no additional expense on selected departure dates and itineraries. Family cruises run in holiday times. While all its vessels have the lavish Uniworld presentation and services, note that Ambassador and Baroness have no elevator, and Queen and Royale elevator does not extend to the lowest deck. Four ships ships have full butler service in the suites.
Intimate ships
A variety of on-board dining options and special culinary experiences with open seating and a casual-elegant dress code. Elegant restaurants, welcoming lounges and bars, the inviting sun deck and your own beautifully appointed stateroom.
River cruising with offers an unparalleled level of convenience, as you often dock right in the heart of town, mere steps away from charming squares, magnificent cathedrals, and bustling market places.
Dining

Enjoying an extraordinary dining experience comes down to a few special ingredients. The ambiance of an inviting restaurant, the camaraderie of friends, the talents of an expert chef and the refined service of a professionally trained crew in an atmosphere of casual sophistication. And yes, the food itself – a delicious fusion of style, unique culinary creations, and taste inspired by the regions of your itinerary prepared with the finest and freshest ingredients sourced from farmers markets and local suppliers.
Facilities
Uniworld's ships have expansive panoramic views at every turn with hundreds of square metres of glass. Each ship has a full service bar, cosy library, a fitness centre, boutiques and some of ships have swimming pools.
Guests can enjoy dining alfresco or in the elegant restaurant. Wireless internet access in conveniently available throughout all public areas, with 24 hour front desk services and laundry facilities also offered complimentary
Accommodation
All staterooms and suites have handcrafted Savoir® of England beds, 100% Egyptian cotton linens, and a choice of pillows. Other amenities include built-in closets, hair dryer, individual thermostat, flat-screen TV with infotainment center and direct-dial telephone, bottled water, and a safe. Marble bathrooms feature L'Occitane bath and body products, plush towels, towel warmers, heated marble floor, a vanity with make-up mirror, bathrobes and slippers. After a day of sightseeing, nothing feels better than stepping into a well-appointed personal sanctuary, where everything is just as you like it.
Excursions
Uniworld's complimentary shore excursions are led by experienced English speaking guides. To get a deeper understanding of the heart and soul of a region and its people they have created their exclusive guided "Do as the locals do" and "Village Day" excursions to provide guests with authentic encounters. Guests will also be treated to exclusive excursions and lectures reflecting the history, culture and cuisine of each destination. In select locations they have a guided "Go Active" hiking and biking excursions led by local naturalists or sports guides. Alternatively, take one of their complimentary bicycles out and discover for yourself.
Rivers
Rhine | Moselle | Main | Danube | Seine | Rhone | Saone | Duoro | Volga | Po | Garonne | Dordogne | Gironde
Earlybird Discounts
Uniworld offer early bird savings offers in July and you can choose from pay in full savings ranging from $800 per couple or deposit at time of booking savings ranging from $400 per couple
River Royale
The River Royale was remodeled in 2014 to capture the essence of the Bordeaux region, with a timeless style that emphasizes elegance and comfort as you sail through southwestern France. Carrying no more than 130 passengers, this intimate ship is a wonderful place to savor the scenery, dine on exquisite cuisine, and relax with friends over drinks in the Salon Gascogne's Aquitaine Bar and other richly appointed public areas.
RIVERS Garonne River, Dordogne River / GUESTS 130
River Queen
One of the most unique ships cruising Europe's waterways, the River Queen has an exterior resembling the steamships of the 1930s and an elegant Art Deco interior.
Decorated in richly textured blue and white fabrics—with marble bathrooms and inspiring artwork—River Queen is a sublime floating hotel designed with your every comfort in mind. River Queen was rated the #1 ship in the entire cruise industry (both river and ocean) in the 2012 Conde´ Nast Traveller Readers' Cruise Poll.
RIVERS Rhine River, Danube River, Moselle River, Main River / GUESTS 128
River Princess
The stunning foyer of the 130-passenger River Princess sets an indulgent and luxurious tone for your European journey.
Throughout the ship, jewel-tone greens, warm browns, and mix of black of white create a sophisticated ambiance, while stylish public areas—including a Main Lounge, a Sky Lounge, and a Captain's Lounge and Library—provide comfortable places to curl up with a good book, chat with friends, or sip your favorite cocktail.
RIVERS Danube River, Rhine River / GUESTS 130
River Tosca
The intimate 82-passenger, all-suite River Tosca provides a relaxing and comfortable setting for guests as they cruise the legendary Nile River and explore its most wondrous cultural sites.
The vessel features a stylishly adorned lounge with full-service bar, cozy library, restaurant, fitness room, massage room, and an expansive Sun Deck with shaded cabanas and a swimming pool, perfect for a refreshing dip.
RIVERS Nile River / GUESTS 82
"Attention to detail was amazing - the ship is beautiful!"
S.S. Antoinette
The luxurious décor of the 443-foot, 154-passenger S.S. Antoinette—Uniworld's first Super Ship—features fine Brazilian marble on the walls and floors, a 19th-century Venetian glass mirror, a stylish Bar du Leopard with full-service bar, and an onboard cinema.
The two-story foyer boasts a 10-foot blue Strauss Baccarat chandelier with huge sapphires—a stunning piece that once hung in New York's famous Tavern on the Green—and a collection of original artwork is displayed throughout the ship.
RIVERS Rhine River / GUESTS 154
"Having cruised some 35 voyages I will return to Uniworld to experience again the wonderful ambiance and hospitality! I will certainly be recommending you to all my friends and acquaintances."
- Cher W.
S.S. Maria Theresa
One of Europe's most beloved and longest reigning monarchs, the great Habsburg ruler Maria Theresa, was so extraordinary that we built an entire Super Ship in her honor.
Named "Best New River Ship" by Cruise Critic editors her maiden season, the S.S. Maria Theresa features ultra-luxurious accommodations and an array of thoughtful personal touches, ensuring a truly indulgent and unforgettable voyage along the Rhine and Danube Rivers.
RIVERS Rhine River, Danube River / GUESTS 150
"Regal in its opulent 18th-century decor, a floating homage to the former Austrian empress....Besides indulgent dining and an elegant atmosphere, this is one of the prettiest ships out there."
- Cruise Critic editors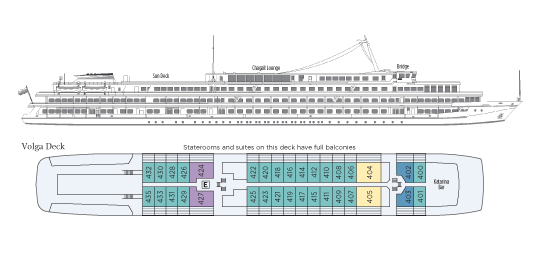 River Victoria
River Victoria's elegant décor was thoughtfully designed to provide our guests with all the comforts of home during a grand tour of Russia's imperial cities and timeless landscapes.
From Moscow to St. Petersburg, travel in style and comfort as you follow in the footsteps of Peter the Great down the Volga, Neva, and Svir rivers, Russia's most legendary and scenic waterways.
RIVERS Volga River / GUESTS 202
S.S Catherine
Uniworld is committed to building a fleet of ships that represents the absolute best in luxury river cruising, combining quality craftsmanship with high-tech innovations and custom-designed interiors. Our second Super Ship, S.S. Catherine, continues this proud tradition of excellence with sumptuous materials and meticulous attention to detail.
The vessel's opulent interiors include a two-story lobby with a specially commissioned Murano glass chandelier and whimsical life-size glass horse.
RIVERS Saone River, Rhone River / GUESTS 159
River Empress
The cosmopolitan style of River Empress, with its rich jewel tones and vibrant atmosphere, is certain to captivate you. Whether you're dining in the ship's sleek restaurant—reminiscent of a New York jazz and supper club—or relaxing over a cup of tea on the Sun Deck as you gaze out at the 360-degree view, there is no better or more relaxing way to travel through the scenic heartland of Europe.
RIVERS Rhine River, Danube River, Main River / GUESTS 130
Ganges Voyager II
The ship's spacious, high-ceilinged suites are a serene sanctuary, with beautiful hand-painted murals and all the comforts of a five-star hotel. All suites have a cozy sitting area and a French balcony with floor-to-ceiling glass doors. A bed dressed in soft linens, with a choice of pillows.
Your roomy bathroom has a rain shower, comfy robes and slippers, and spa-quality bath products. Other high-end amenities include a generous amount of closet space, under-bed storage, a flat-screen television with a wide selection of on-demand movies, individual climate control, bottled water replenished daily, fresh fruit and flowers upon arrival, an iPhone docking station with alarm clock, makeup mirrors, and universal electrical plugs.
RIVERS Ganges River / GUESTS 56
Century Legend
The five-star-rated Century Legend is a state-of-the-art ship designed by European architects and shipbuilders specializing in sophisticated marine design.
The many defining features of this well-appointed vessel include restaurants, bars, a cinema, indoor pool, fitness center, and onboard spa, as well as Uniworld Signature Suites with balconies and a host of special VIP benefits.
RIVERS Yangtze River, Li River / GUESTS 398
Queen Isabel
Uniworld's Queen Isabel provides an up-close and unforgettable view of Portugal's Douro River Valley—a designated UNESCO World Heritage Site—renowned for its dramatic, rugged scenery and pristine waters. Named after Portugal's beloved queen, this boutique 116-passenger vessel is the most unique and stately ship on the Douro, a wonderful place to admire the region's steeply terraced hillside vineyards and charming wine estates.
Note: Cruising in Spain and Portugal is a wonderful experience, and while the Queen Isabel is a lovely and comfortable ship, its amenities may differ from those of a Uniworld company-owned ship.
River Countess
The 130-passenger River Countess is filled with light and colour.
Muted shades of turquoise complemented by soothing cream, taupe, and white accents create a luxurious and sophisticated environment for your up-close, unsurpassed and unforgettable Italian adventure. Ciao, bella!