Porto to Lisbon | 8 Days | From $5,240 PP*
Portugal may be small but it's big on vibrant culture, history, and natural beauty that invite intimate exploration. Discover the seafaring charms of the coast, the lush river valley vineyards, the hilltop castles and villages in its alpine interior and monuments to man-made achievements during stays in gracious palace hotels and pousadas. Spend two nights in the ancient port city of Porto with guided visits to two UNESCO World Heritage Sites, the Douro Wine Region and the historic center of Oporto. Your unique accommodation in Évora is a converted, 15th-century convent, setting the scene for guided exploration of the Convent of the Order of Christ and the historic city, both UNESCO World Heritage Sites, plus wine and olive oil tastings in the country; and in Lisbon, a two-night stay in Portugal's capital city includes excursions to seaside Cascais and Sintra, a UNESCO World Heritage Site. Unique experiences include visits to seven UNESCO World Heritage Sites on guided visits with local experts; private dinner at the National Palace of Queluz (Palacio de Queluz); and tastings of world-famous port wine and olive oil during a tour and lunch at a renowned winery.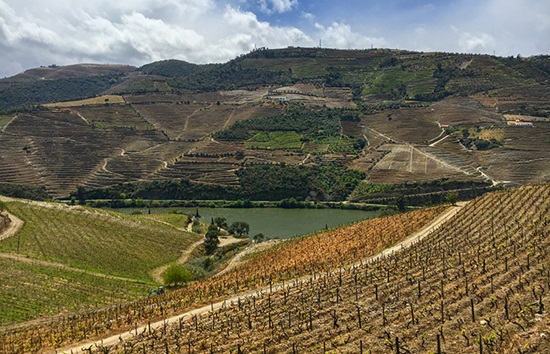 Day 1: Arrive Porto
Tour begins: 2:00 PM, Hotel Infante Sagres. A transfer is included from Porto Int'l Airport to Hotel Infante Sagres in the city's historic center, a UNESCO World Heritage Site. Today you'll get a guided tour of Porto's historic district and its beguiling architecture, from medieval to baroque to Beaux-Arts, winding alleyways, miradouros (lookout points), opulent palaces and churches. Public art is everywhere in the boldly colored painted tiles (azulejos) that adorn city buildings. Following your city tour, go for a ride along the Douro River aboard a traditional, flat-bottomed rabelo boat like those used for centuries to transport port wine down the river. This evening, please join us for a welcome reception followed by dinner at the hotel.
MEALS : D
LODGING : HOTEL INFANTE SAGRES
Day 2: Porto & Portugal's mountain vineyards
Colourful, eclectic Porto rises on staggered hills beside the Douro River where the river empties into the Atlantic. Port wine originated here in the 17th century and is still the region's mainstay product, brought down from the vineyards of the Douro River Valley. Begin the day with a drive through the valley and some of the most unusual and breathtaking wine country in the world – where the serpentine river winds along deep gorges and mountains ringed with terraces and carved into vast patchworks of vineyard estates, and baroque villas, like hilltop castles, dot the landscape. The hardy grape varieties suitable for port are all native to the region and thrive in the sandy, infertile soil with roots that reach down thirty feet or more in search of water. Stop at a winery for a tour and tasting, followed by lunch. Return to your newly restored hotel in Porto's historic district to relax and spend the afternoon and evening as you please.
MEALS : B, L
LODGING : HOTEL INFANTE SAGRES
Day 3: Coimbra, Tomar & Praia D'El Rey
This morning travel to Coimbra, located on the Mondego River in central Portugal, for a guided tour of one of the oldest universities in the world. The University of Coimbra was actually founded in Lisbon in 1290 but relocated here in 1308. While walking through the campus, take note of the uniforms its students wear; they were the inspiration for the attire worn by Harry Potter and his classmates. Visit its 18th-century library, a UNESCO World Heritage Site that is home to some 56,000 volumes, many of which date from the 16th to 18th centuries. After lunch in Coimbra, head to the town of Tomar, set within one of the most fertile regions on the Iberian Peninsula. One of Portugal's historical jewels, the town was established inside the walls of the Convento de Cristo, a former Roman Catholic convent originally built as a stronghold of the Knights Templar in the late 12th century. On a guided tour of the Convento, now a UNESCO World Heritage Site, explore the wonders inside this labyrinthine complex that includes the fortified Round Church, the "Bread" Cloister, the Refectory and more, and learn how the Convento and Tomar itself became especially important in the 15th century as a center of Portuguese overseas expansion under Henry the Navigator. Continue on to the seaside Praia D'EI Rey Marriott Golf & Beach Resort in Óbidos for an overnight stay.
MEALS : B, L, D
LODGING : PRAIA D'EL REY MARRIOTT GOLF & BEACH RESORT
Day 4: More history in Óbidos & Évora
Spend the morning exploring on your own in the hilltop walled town of Óbidos, described by Condé Nast Traveller as "a medieval town that looks like it was lifted from the pages of a fairy tale." Enjoy time to wander along its cobbled streets that meander up to the ramparts, passing picturesque whitewashed houses charming with cascading bougainvillea and painted doors of every color. According to a popular legend, ever since King Dinis gifted this pretty town to his beloved Queen Isabel de Aragon in the 13th century, princes have offered it to their brides too. After lunch, head for Évora, a walled medieval town of whitewashed houses and wrought-iron balconies, where you'll visit a family-owned cork factory with your local guide. Check into your luxury hotel, a restored 15th-century convent outside of town, where dinner tonight is at your leisure.
MEALS : B, L, D
LODGING : CONVENTO DO ESPINHEIRO

DAY 5: Exploring Évora
Start your day with a walking tour of Évora's historic center, a UNESCO World Heritage Site. The city's history reaches back 2,000 years; Portuguese kings resided here during the country's Golden Age, and you'll see royal palaces rich in Manueline architecture as your local guide peels back Évora's layers of history with stories about its Roman roots, its Moorish influences, and its glory years in the Middle Ages as a seat of learning and the arts. After lunch, return to your hotel in Évora and spend the rest of the day and evening as you wish.
MEALS : B, L, D
LODGING : CONVENTO DO ESPINHEIRO
DAY 6: Cascais, Lisbon & more
Depart Évora and head for Portugal's colourful capital city of Lisbon. En route, meander through picturesque landscapes to the beach town of Cascais on the Portuguese Riviera for a walking tour and lunch as you wish. Arrive this afternoon in Lisbon for a city tour, followed by time to explore on your own. Check into your landmark Lisbon hotel on the luxurious Avenida da Liberdade, and spend the evening as you please in this historic city.
MEALS : B, L, D
LODGING : TIVOLI AVENIDA LIBERDADE LISBOA

DAY 7: Sintra & a Palacio de Queluz farewell
Today, visit Sintra – a romantic city of castles, monuments, and palatial estates. A city tour includes the National Palace of Pena, a Romanesque retreat crowning a mountain peak, and resplendent with yellow and pink painted buildings, crenellated turrets, and a medley of architectural styles; it was inspired by castles on the Rhine. Return to Lisbon for an afternoon spent as you please. Then join us for a very special, Tauck Exclusive farewell evening featuring a private tour, reception and dinner at yet another Portuguese national treasure – the Palacio de Queluz, a lavish 18th-century royal retreat, one of the last great Rococo palaces built in Europe.
MEALS : B, D
LODGING : TIVOLI AVENIDA LIBERDADE LISBOA
DAY 8: Journey home
Tour ends: Lisbon. Fly home anytime. A transfer is included from Tivoli Avenida Liberdade Lisboa to Lisbon Airport. You should allow a minimum of 3½ hours for flight check-in.
MEALS : B
Highlights & Inclusions:
TAUCK EXCLUSIVE – Private farewell evening at the lavish Palacio de Queluz
Visits to Portugal's UNESCO World Heritage Sites, including the historic centers of Porto, Évora and Sintra, Tomar's Convento de Cristo & the University of Coimbra

Wine tasting tour and lunch in the Douro Valley; wine and olive oil tastings in the Alentejo region

Airport transfers upon arrival and departure as noted

17 meals, service charges, gratuities to local guides, admission fees, taxes and porterage